I feel so badly to have neglected my blog for so long—life just got ahead of me over the last half of the summer! But there is one more very important event that desperately deserves to be posted, and that is my wonderful in-laws' 50th anniversary party in Minnesota. Marriage is at once beautifully rewarding and oh so hard, and 50 years is such an inspiration! They constantly amaze me, both with their marriage itself and with the life they've built for themselves, full of friends, family, and love.
The trip was the perfect combination of the quieter time with them that I love so much, mixed in with the big group events that my extrovert of a husband adores, so we all had a great time! I think my favorite part might have been getting to hang out with my niece and nephews as they grow more and more into the little people/young adults they are too quickly becoming. August is just adorable and so talkative with the most interesting things to tell us about, and Soren is growing up to be such a sweet and kind young man! And Emily and I got to spend an afternoon alone with Clara at the Mall of America, and she's smart and sweet and fun, and we enjoyed every minute of her!
Another favorite part for all of us was that Emily's "pretend Grandparents" came, too, driving all the way from the Silicon Valley to Mankato to be there for us and for Jack and Nancy. I doubt they will ever realize how much that meant to all of us; we just adore them! <3 Aunty Sarah took the youngest three fishing for the day. Emily had beginners' luck, catching eight fish! She was at once thrilled and repulsed by the concept...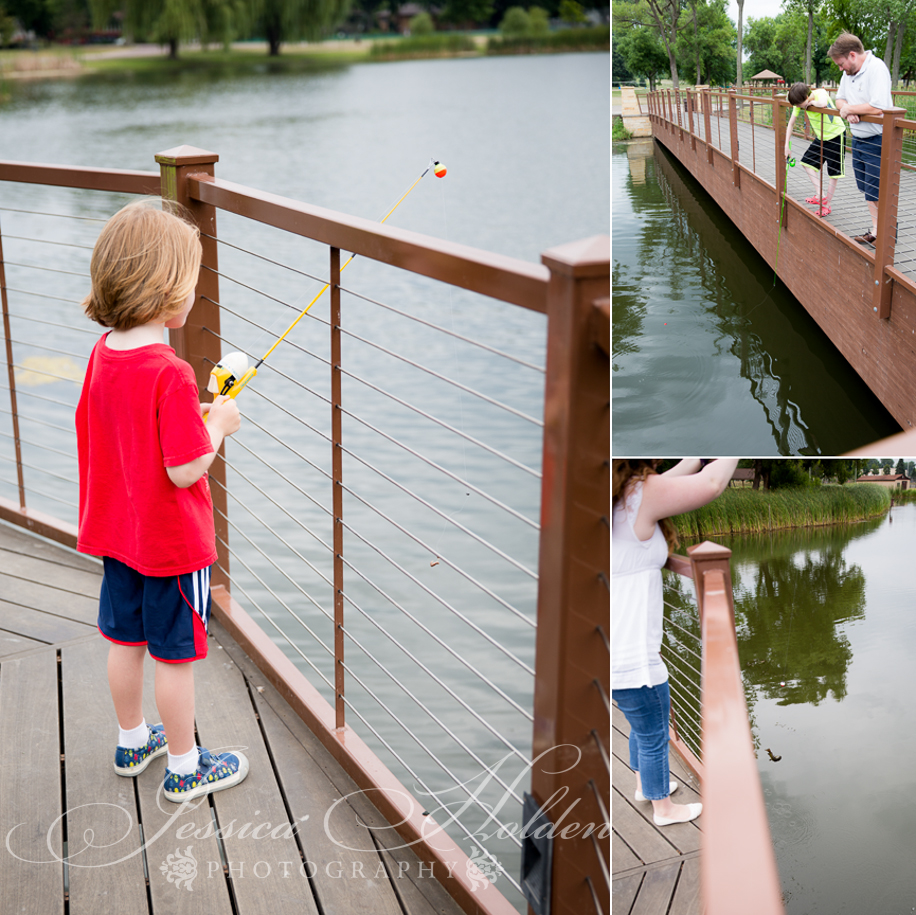 We girls spent the next morning prettying up the room for the event:
The party was so much fun! The next day was just as great—we got to go innertubing! Even my mother-in-law went.
I hadn't planned on putting on my swimsuit at all, but Nancy had so much fun that I couldn't resist. So Emily and I did it too, riding with Clara.
And Emily and her dad both tried (and loved!) paddle boarding.
To top it off, the trip home was gorgeous, too…
The innertubing thing, though? Perhaps I'd have been better off skipping it this year. While trying to leap onto the tube in the chest high water, I wrenched my knee. I felt a snap, and my first thought was "That can't be good." But it didn't hurt very much that day—it just felt unreliable. The next day it was more sore and by the time we arrived home, it was swollen and tender. The orthopedist thought it was a torn meniscus and sent me for an MRI to confirm, but we were both shocked to see that the results showed so much more damage. In addition to the torn meniscus, I severed the ACL, tore two other ligaments, have significant bone bruising, and injured the patella. So I'm scheduled for surgery in a few weeks to fix all that can be fixed. Sigh…
But MAN was innertubing fun! Perhaps even worth it… ;-P (Though maybe not so much after we get the medical bills—LOL!)