I am not great with storytelling images, and I am afraid I may not quite have achieved the intended purpose with these, because in retrospect they really are more like our Editorial assignment than anything else. But still, the trip was such fun (minus and incident at the very end—sigh…), and I am so glad to have finally met Alli's (the very one from this blog circle!) sweet son!
We wanted to meet somewhere between her in Southern California and me further north, so we landed on San Luis Obispo and the Santa Barbara coast. Alli suggested the Madonna Inn for our first night, and it had been on my bucket list to stay there so it sounded like fun! I was pleasantly surprised at how lovely it was amidst the kitsch factor—it was great!
We headed into San Luis Obispo for dinner and to hang out a bit—I think both kids might have found Rocket Fizz a highlight of the trip!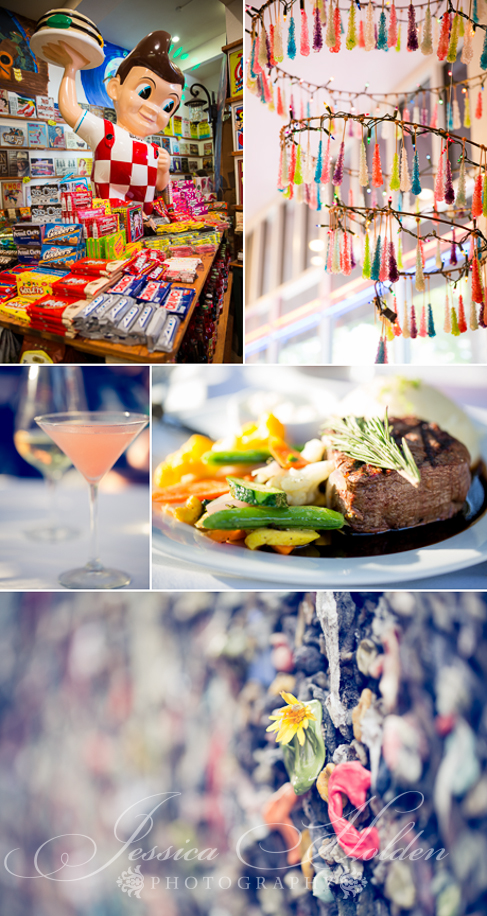 The next morning we drove down to spend a night "glamping" at El Capitan Resort. I wasn't sure what to expect, but it had come highly recommended! I have mixed feelings about it. It was definitely fancy for camping, having indoor amenities, beds, and electricity (plus they will even bring dinner and cooking utensils) so you really don't need to bring much in the way of camping gear, but there were a lot of skunks which I didn't love. They were not aggressive in the least and didn't bother us (though we saw one!), but their smell was far from pleasant—I think there might have been a little family of them under our cabin. But cooking was fun, s'mores even more fun, and the company, perfection!



The surrounding area at the resort was gorgeous! We went to see their llamas (though they weren't in the mood for a visit so we had to view them from afar), and then walked down to their beach which was beautiful!



But see that pretty (and rocky) ocean? That's where the trip went awry for Emily and I, because though the waves were gentle, suddenly a big sneaker wave came ashore (two waves combined into one at the last minute), and as Emily was frantically backing away to get out of it's path (the area she was standing in was much less rocky and more sandy than where I took this shot, but still had a few boulders buried in the sand), she tripped on a rock and went down, taking with her our BRAND NEW 7D (and an older Tamron lens) and her brand-new-to-her iPhone. The lens, believe it or not, works fine still (a testament to Tamron's durability!), though it sounds like a pepper grinder when you zoom it—we still need to work some of the sand out. The camera is a goner, so I am waiting to see if the Accident and Spills insurance I bought will cover it (it had better!). The phone is dead too, but Apple was kind enough to let us buy a new iPhone 4 for a discounted price so that's one less thing to worry about. Now if only they will honor the insurance on the camera—I am so anxious about that!
As always, please continue on in our little circle to see what Laura came up with; I am so excited to see these this month!