This year we spent Thanksgiving in Oregon at Grammie and Grampa's house. It was beautiful, relaxing, and fun, just like it always is!
We brought Rory on the 432-mile drive with us, and she ended up being a fantastic little traveler! She mostly hung out quietly in her cage, quacking (that's the closest word we can find to describe her most common sound) at us once in a while lest we forget she was there.
Grammie set a gorgeous Thanksgiving table, and the food was SO delicious, both on Thanksgiving AND throughout our visit!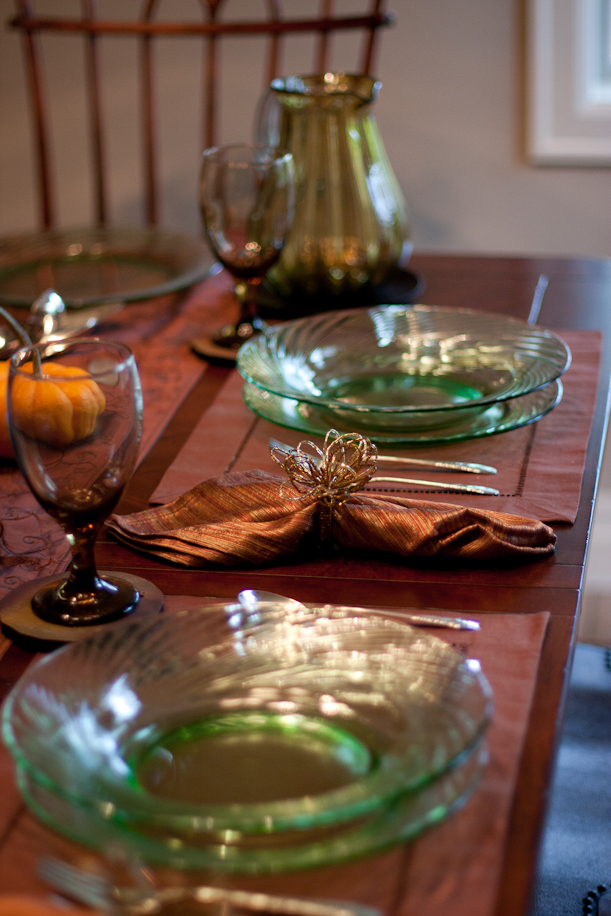 As always the wildlife around their home was so much fun to watch. The flock of turkeys even showed up on Thanksgiving morning for us (clearly not the brightest of creatures), and Grampa's deer obliged me with a few photos when they came by for an evening treat from Grampa (and though I asked very politely for the baby buck to scoot over so as not to have the tree trunk directly behind his head, he preferred not to…). And the bears kindly stayed in hiding!



Grampa is playing the guitar BEAUTIFULLY and got Emily interested in trying a thumb pick to add another dimension to her learning. Guess I'll be making a trip over to Guitar Center this week to see if I can find a teeny tiny one–her hands are so small!



On the way home we were worried about getting Rory back over the CA/OR border (it didn't occur to me that there could be an issue bringing an exotic pet across state lines until we were halfway up there, and I hadn't brought any health certificates or proof that she'd been purchased in CA), but it was no problem, luckily. On the way home we let her out a bit more than we had on the way there–she was such fun to have along!



The drive home was spectacularly beautiful, as always (and my husband a champ for driving the entire trip!!!!)…



And of course once I got home I thought of so many photos I DIDN'T take that I should have: the infamous Dutch Brothers coffee drinks and how they put a little flourish of whipped cream on the top of Emily's strawberry smoothie every time; how Emily politely tried a Brussel sprout and decided they actually weren't bad at all, and went back for seconds the next night; how cute Grammie and Grampa's chihuahuas are (though they are still missing the untapped reservoir that is Emily's love and attention if they would only realize that just because she is a small person does NOT mean she's scary); how DELICIOUS Grampa's cranberry and Tom's chocolate cosmos are; how much FUN we had when they introduced us to the spectacularly amazing Tommmy Emmanuel; how hard Emily tried at bowling without bumpers (she bowled her ball right into her thigh at one point and was so frustrated that she kinda lost it, but then she got it together and now wants to try again! and Mom and G blew us away with their prowess!); and getting a great start at my Christmas shopping (with which I am woefully behind) (and a few little things for myself) in Jacksonville. We had a wonderful visit, and can't thank you enough, Grammie and Grampa. We miss you already!