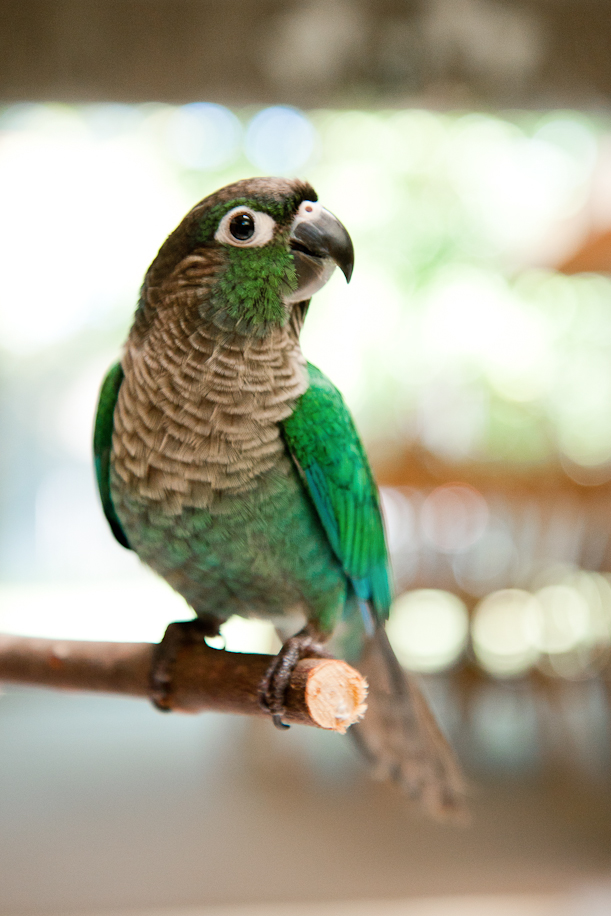 Our new little turquoise conure is such a little thing, but she's wormed her way into our hearts in a BIG way! She is playful and FULL of personality, mostly good, but she can be fiesty and moody, too. I've had cats and dogs pretty much continuously throughout my life, but a bird is a whole different ballgame. Cats and dogs seem to have fairly stable temperaments, but Rory, well, she definitely has her own opinions about how things should be going at any given moment. She wants to be with at least one of us at all times if at all possible, and she is VERY sweet and affectionate and oh-so-cuddly, but she also likes to chew on EVERYTHING and has very little interest in the fact that you'd prefer that she not, for example, remove all the little sparkley crystals from your daughter's favorite shirt, or systematically chew your mousepad into a thousand tiny pieces, or quietly nibble on the wires behind your monitor while you're mindlessly perusing Facebook. But right after she does those things, she will hop onto your shoulder and then inch her way closer and closer to your cheek until her face is smushed up tightly against yours, and you are petting her, because how could you not? She is about as adorable as a little creature can be!
Snuggling up with us is pretty much her all-time favorite thing to do (see her all curled up against Emily?):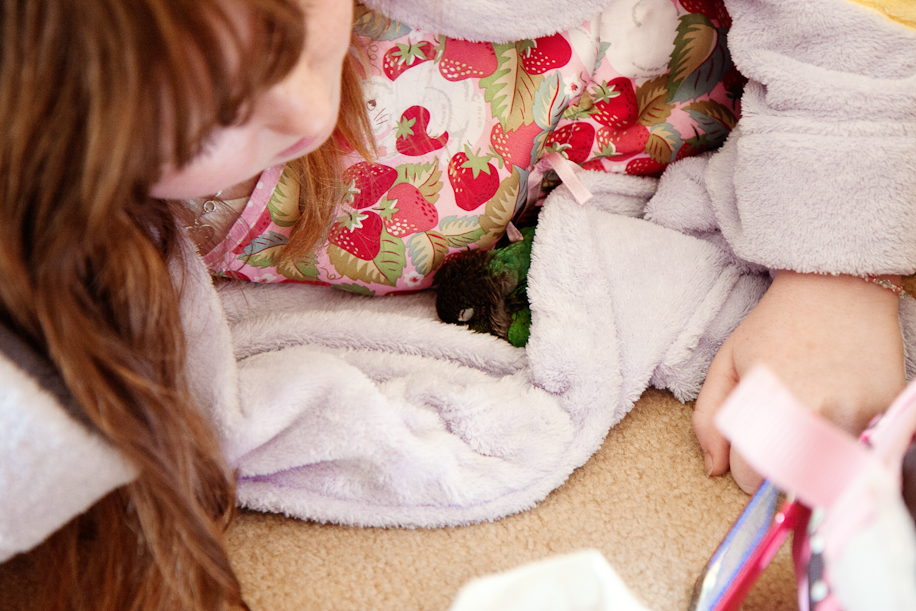 Besides snuggling and chewing, she loves to play wth her bowl of buttons:



And watch the big birds out the window:



And eat her favorite treats–especially the really messy ones:



And especially, play with her cat toy:
She is not very messy in her cage and doesn't throw much food around at all, so except for the wanting-our-attention, she is pretty low maintenance. (I save the messy foods, like strawberries and rasberries, which she flings around with gusto while eating, for eating in the kitchen while I am refreshing her cage in the morning and making our dinner in the evening.) Oh–and get this–she is potty trained, too: As long as we tell her to "go potty" often enough and hold her where we want her to go, she will do it, and won't have accidents elsewhere! She has made herself perfectly at home with us and it feels like she has been with us forever. We just adore her!