Emily and I are frantically working on the humongous list of Scavenger Hunt items for our second year of doing the annual, month-long Clickinmoms Scavenger Hunt. It is a HUGE undertaking, and we are so tired! But we are doing really well this year, we hope. And we are having so much fun!!!! We've gone on all sorts of little trips that we might otherwise have MEANT to do this summer but not actually gotten AROUND to (like Santa Cruz, San Francisco, and Davis), eaten foods we might not have otherwise made or ordered (like brownies, a 7-layer cake, and curley fries), and captured a bazillion photos of things you can't even imagine–foreign foods not commonly sold in the U.S. (like Irn Bru soda, VB beer, and TimTam bars), obscure items you'd never think of (like a Corpse Flower, a tattooed man on a pink bike, and me in a Sumo suit), and some things you'd think would be simple but proved to be very, very difficult (like a 2011 quarter and American flag bunting).
Our friends and family have gotten a kick out of helping us to track items down so we could photograph them (or at least they pretended very, very well!). We even ended up in Minnesota visiting Tom's parents for a chunk of the month, and they were a tremendous help too, driving us all over the place to track things down and holding our signs! We couldn't have done half as much if it hadn't been for everyone's endless help and enthusiasm! We have met some wonderful people along the way, too, including a few new ClickinMoms!
Here are some of my favorites from the Hunt so far (at least the not-so-embarassing ones–there were a few others I adore but was sworn never to publish publicly!).
Full moon (just cuz it's pretty):


This one is a favorite simply because it reminds me of the wonderful day trip we took with two of our favorite people…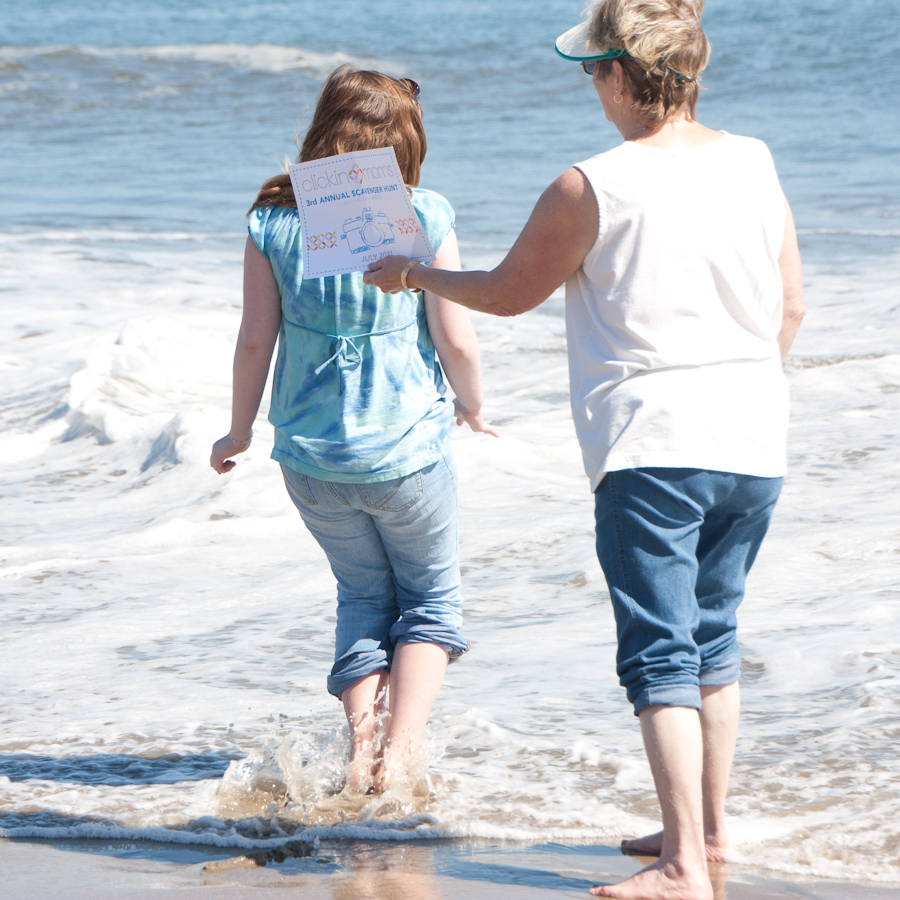 And a thank you to Tom's co-worker, Charlie, for bench-pressing 200 pounds for me (actually, 205!)–very impressive!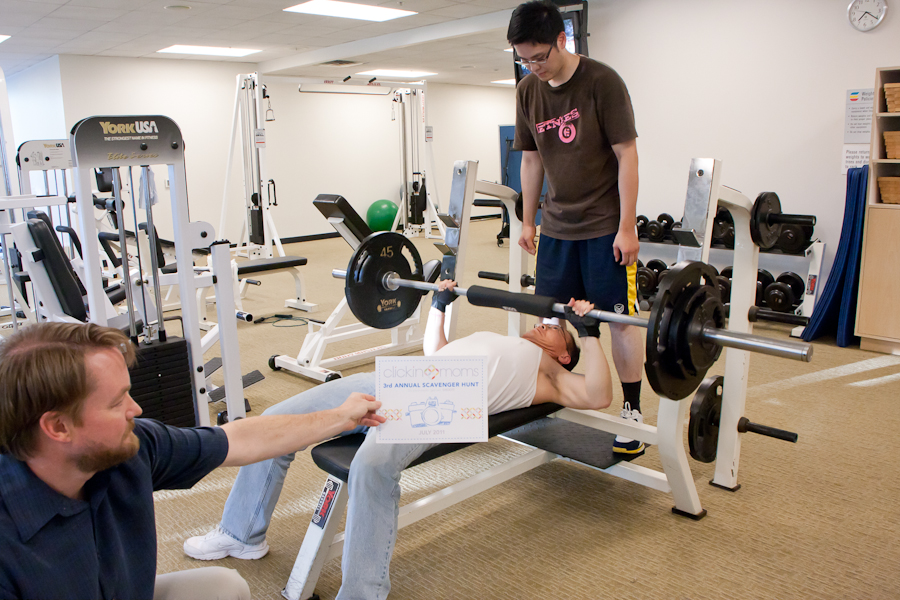 This one I love because it was taken at night in a hotel room in Davis after a wonderful day. We knew it would likely be our last day in a row of meeting our minimum-12-a-day goal; it would be nearly impossible to keep it up because the items were getting so much more difficult. So for our 12th item that day, Emily put on the false eyelashes just before midnight. Oh–and she was super excited because they are the same false lashes that Quinn wore in the Lady Gaga episode of Glee–woohoo!!!!


This guy was super sweet and helpful! We went in to Ben & Jerry's to see if they could make us a four-scoop ice cream cone, and he was up for the challenge. I wish we could have given him prettier colors to work with, but for $9.95 we wanted our favorite flavors–cookie dough and mint chip. Thanks so much, Phil, you were beyond awesome!



And another tough one was Marilyn (ESPECIALLY Marilyn!), Emily, and Ralph completing a 1000-piece puzzle for me–thank you so very much!



For this one, Emily set up her tent for me in the back yard, and then she made herself a cozy little bed in it to read. And she fell asleep! So I got "tent" AND "child sleeping outside."



This is probably our most amusing one–we needed butterflies, and these two were busy having a romantic evening under the glorious setting sun so they stayed still for me.



I think this, though not a fantastic photo by any means, is our favorite story from the Hunt. We had gone to several florists already looking for "fresh-flower lei", only to be told time and again that it's the wrong time of year. At the very last shop we could think of, we ended up standing in line beside a man who was being told he was at the wrong branch for his pick-up. He overheard our strange request, and told us that he was on his way to the right shop to pick up the special-order lei he had bought for his wife who was graduating from nursing school the next day. He said it must be fate and that he ended up at the wrong store at the right moment and for the right reason! He was just adorable, and so proud of his wife! So we followed him to the place down the street and snapped our picture.



And a "just for fun" one, as a tribute to the CM we adore. A joint effort: I took the shot, Emily made the C, and Tom made the M:



And this, "man with flower in his hair," is perhaps my all-time favorite, simply because I love them so…


We have one more day to finish; the hunt goes from July 1 until 8:59 Pacific time on July 31. Emily and I are tired but determined, and Tom is going to help us track down the few stragglers we think we can still get today. Wish us luck!